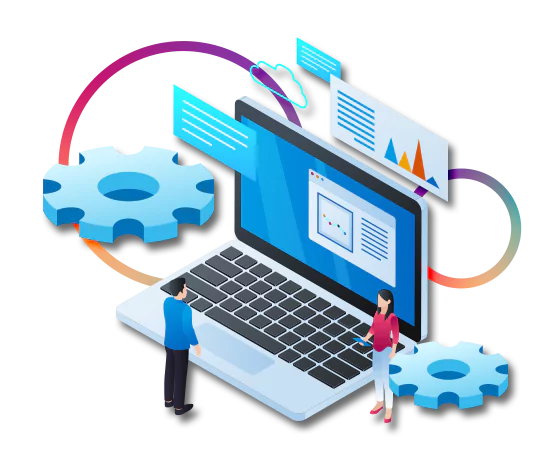 Skilrock Technologies offers turnkey solutions for the diverse needs of operators anywhere in the world. Our range of services includes gaming consultancy, solution designs, customization, IT infrastructure, training, documentation, risk mitigation, system administration, etc. They are secure, reliable, and feature-rich with convenient/easy deployment and user-friendliness.
Every aspect of our turn-key solutions is characterised by professionalism and high standards of innovation. We understand what operators need and want from technology providers. In simple words, our aim is to give you the impetus to drive your business forward!
Key Features Of Our Turnkey Gaming Solutions
Customized Software
We will bring your vision to reality with our custom software development solutions. This can be done for a specific set of users, functions, etc.
Business Consulting
Together we can give a new direction to your lottery & gaming business. Our expertise includes changing customer expectations, emerging technologies, etc.
Data Analytics
Operators can examine critical data sets in order to find player preferences, emerging trends, make business predictions and focus on performance.
Hosting Services
Get solutions with an unparalleled emphasis on speed, reliability, affordability, flexibility, performance and security.
White Label
Provide our fully supported products & services under your brand name and reap multiple benefits such as readymade offerings, deep expertise, exceptional technical knowledge and much more.
Fraud Detection
Reduce exposure to potential fraud with our tested solutions. They can be customized to suit any location, size and scope.
Marketing Advisory
Creating & improving the capabilities and competitiveness of lottery and gaming companies around the globe.
3rd-Party Content
Add third-party content to your operations with ease as our technical team is prepared to fulfil any such pressing need.
Custom Integrations
We can integrate external applications into your existing systems - without impacting the overall operational performance.
Game Localization
Our game developers can easily adapt a game or specific features for the targeted market. This process includes language, themes, graphics, cultural issues, etc.
New Game Development
Got an idea? Let's give it a shape and attract players in huge numbers. It is available for multiple categories such as sports, action, arcade, fantasy, etc.
Training And Support
Get the right training & support solutions for achieving growth, profitability and competitive advantage in the industry.
Common Questions about our Turnkey Gaming Solutions
Turnkey solutions are ready-to-go solutions that are easily deployed in a business. These are usually tried and tested products & services.
Businesses can gain the functionality they need quickly and in a cost-effective manner. This is more beneficial for lottery & gaming businesses that need immediate results. It also minimises delays, improves efficiency, and ensures high-quality standards.
We understand that lottery operators can significantly benefit from the wealth of player-specific data collected across channels - and generate actionable insights that help them responsibly grow the business. Of course, it also helps in providing relevant and rewarding experiences across their player base.
Yes, we have a talented team of game developers who can develop exciting and engaging games for your players.
Yes, our on-demand solutions are customizable to meet regional preferences around the world to enhance user experience and increase conversion rates. Contact us for further reference.
Even if you are not technologically savvy, you can benefit from our cutting-edge technology solutions. In fact, our team will be at your disposal whenever you need us.
Skilrock is a global gaming technology provider and understands many local, national, and international regulations and standards.
Yes, we provide cutting-edge and holistic turnkey solutions according to our client's business needs.