Skilrock Technologies to Hold Global Annual Meet 2023 in India
The event is scheduled to be conducted on 12 January 2022 as a part of thought leadership initiatives by the esteemed company. It already stands loaded with international insights, knowledge sharing, technological advancements, entertaining & fun activities, and much more. It will bring together Skilrock's associates, team members from different parts of the world, top management, and other important delegates on a single platform.
This year's talks are essential to putting the motto of 'global collaboration' into practice. The emphasis will be on formulating a long-term response to the changing needs of the market. As we enter a new phase, this will be crucial for Skilrock Technologies and its growing position in the international market. All in all, the Global Annual Meet will set a course for sustainability, innovation and growth in the years to come.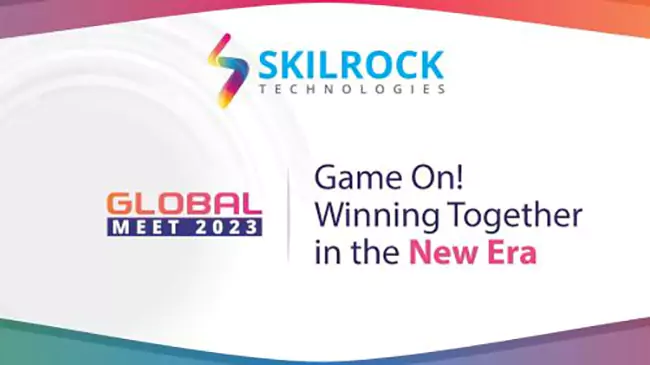 Julian Arabadjiyski, Regional Manager - Europe, Skilrock Technologies, commented "I'm ready to come down to India and prepare a roadmap or plans that establish our new goals and the actions needed to achieve them!"
Alexandre Tauszig, Regional Manager - Latam, Skilrock Technologies, commented "As we enter the new year, we must re-strategize our goals and the Global Meet is the right place to do so. I am excited to be a part of this platform and join in the conversation.
This is a time of change and growth. Hence, industry leaders will talk about product enhancements, learnings from diverse markets, growth trends, key changes in consumer behavior, business growth, etc. The knowledge-sharing sessions and panel discussions will be followed by exciting talent shows and awards ceremonies.
Skilrock Technologies is dedicated to learning and adapting with great pride. The company is ready to reach new heights and help establish responsible business practices around the world. The Global Annual Meet is a strong step in that direction. For any other information about the event, please contact us.
About Skilrock Technologies
Skilrock is a cutting-edge technology platform & service provider to Global Lottery & Gaming Industry with footprints in every Continent. It's part of the 2.4 Billion US$ Sugal & Damani Group. Utilizing the extensive domain experience across continents, the 4th Generation Platform of Skilrock, 'Infiniti', is a true Omni-Channel, Omni-Gaming Platform, capable of serving any lottery or gaming operator anywhere in the world.
Infiniti serves Retail, iGaming & Self Service Channels with equal ease and at the same time supports a wide variety of games like Lotto, Keno, Bingo, Instant, Sports, Poker, Rummy, Casino and Slots. It serves more than 200,000 retail touch-points and over 5 million iGaming players across 28+ jurisdictions from its headquarters in India and offices in Latin America and Europe. Skilrock is a member of European Lotteries, CIBELAE, the African Lotteries Association, and NASSCOM, as well as being a Gold Contributor of the World Lottery Association, and holds several key certifications including GLI Certifications.